Why Rent a Student House From Us?
If you're still deciding on whether to rent one of our student houses consider what makes us different from the average student landlord.....
StudentHQ is a proud member of the Lancaster University Student Homes accreditation scheme.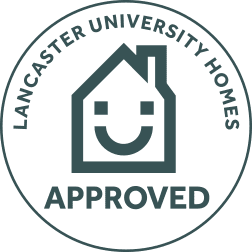 This means that all of our student houses have been checked to ensure that they are meet a high standard and comply with all necessary regulations.
All of our larger HMO properties are also accredited separately by Lancaster City Council.
Great value student houses
We feel that we offer the most competitive 'All Inclusive' rental package in Lancaster
Our 'All Inclusive' rental package has no hidden costs. Everything is covered in one payment, including; gas, water, electricity, broadband*, TV licence, contents insurance and even a TV in the Living room!
There are no quotas or allowances** so you can relax in the knowledge that you won't be charged any extra.
If you enjoy living in one of our great student properties and wish to stay on for another year we will freeze the rent!
*We have installed super fast fibre broadband in all of our properties were possible offering speeds of up to 78mb.
**Please note that despite claiming to offer 'all inclusive' deals many landlords attach a quota or allowance per tenant which means you will be liable for extra costs should this be exceeded.
Fantastic student friendly locations
All of our student properties are in great student friendly locations within easy commute of both Lancaster University and the University of Cumbria and a short walk from Lancaster city centre.
Unlike a lot of campus accommodation and many apartments in the city centre our properties are within easy reach of on street parking.
All of our properties are within a short walk of local amenities.
Great property features
We offer a range of different properties from two bedrooms to as many as eight bedrooms. All of our student housing has modern decor, double glazing, central heating and instant hot water. All of our properties have separate living rooms, washing machines and double beds as standard.
Every one of our student houses has a washing machine and many have a tumble dryer so no need for expensive trips to the laundry!
Most importantly every property has high speed fibre broadband.
Safety comes first
All of our properties are safe and secure with double glazed windows and robust doors.
All student houses have interlinked mains wired smoke alarms
All our houses are fitted with a carbon monoxide detector
Every student house has a yearly gas safety check to ensure that all gas appliances are in safe working order.
All our student houses have an electrical safety check every 5 years as required by law
Where required by law our larger properties are fully licenced by Lancaster City Council to ensure they meet required statutory standards.
Convenient rental payments
We collect rent payment in three termly installments to coincide with student loan payments, making it easier for you to manage your finances.
Always happy to help
We are a small local landlord and own all the student housing shown on our website. This allows us to offer a friendly personal service to our tenants. You will have one point of contact directly with us with no letting agents or maintenance managers! It may take us a while but we pride ourselves on knowing all of our tenants by name.
We are always available to resolve problems and pride ourselves on a quick response should an issue arise. We encourage all of our tenants to make us aware of any problems as soon as possible.
Should you require any further details on any of our properties or the service we offer why not drop us an email or give us a call, we will be more than happy to answer any questions that you may have.
Fantastic Reputation
StudentHQ Lettings have built up a fantastic reputation over the many years we have been serving students in Lancaster. Why not see what our tenants had to say Google+ / Facebook regarding their experience with our accommodation.