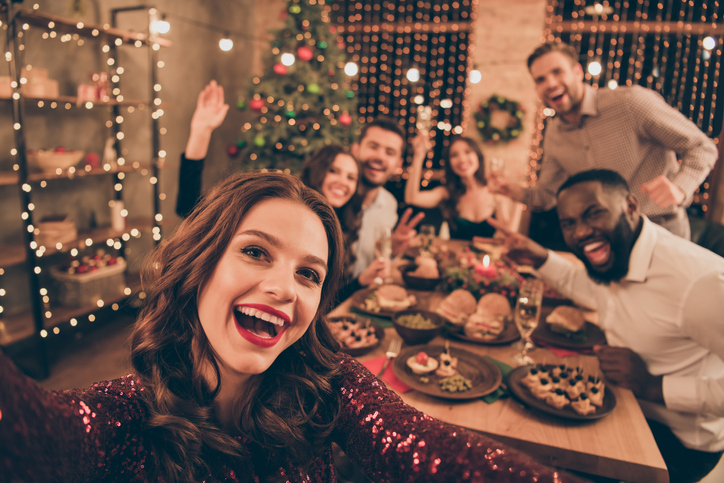 The first semester of uni has flown by, and Christmas is almost here! You might be looking forward to heading home for the holidays and having a bit of a break from assignments and revision, but you also might be feeling a bit low at the thought of leaving your uni friends for the best part of a month. So why don't you host a Friendsmas before you go your separate ways for the festive season?
Friendsmas is a great way to enjoy all the best parts of the festive season (amazing food, presents, lots of mulled wine) with your housemates or friends from your course. Here's our guide to hosting Friendsmas at university.
Festive Food
Since it's not technically Christmas, you don't need to worry about going the whole hog (excuse the pun) with a roast dinner or five-course meal with all the trimmings. Alternatively, there are lots of easy recipes with a festive twist that will get you in the Christmas spirit - a quick Google search for "Student Christmas meals" will come up with plenty of results. The supermarkets at this time of year are absolutely jam-packed with party food, from cheese boards and antipasti platters, to mini sausage rolls and ready-made pigs in blankets. You can also get frozen prepared veg, ready-made stuffing, packets of cranberry sauce, and Christmas desserts, already prepared for you, so all you need to do is put them in the oven. Don't go overboard and buy lots of food which you won't have time to cook, or which might go to waste. Try writing a list of what you all want to eat, especially if you have friends who are vegetarian or vegan, or have dietary requirements, and then go from there. Most importantly - have fun with it! If you want to order an extra large pizza each or the entire menu from your local takeaway for Friendsmas, then go ahead!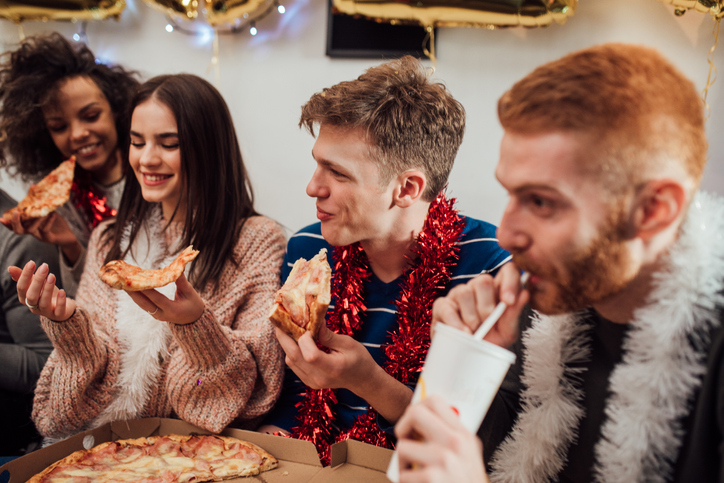 Deck the Halls
There are some really affordable and easy ways to add some festive cheer to your uni house without spending hours putting up a tree or covering the exterior walls in an extravagant light display. You can pick up affordable Christmas decorations from places like B&M, Matalan, Home Bargains, Poundland, and Primark - they won't break the bank and can just add a bit of a festive touch to a room when you're hosting Friendsmas.
The Gift of Giving

We're all in the same boat around Christmas time: it's the end of the semester, and funds are often running low. Don't feel the need to splurge on extravagant gifts for your friends. Whilst it's nice to show your love and appreciation with a really lovely gift, it doesn't have to be something expensive, and sometimes a small yet thoughtful gift is much more impactful. A pair of cosy socks and a fluffy hot water bottle for your friend who's always cold, the classic gift of chocolates, or a fun board or card game that you can all play together, whether on a cosy night in or while having pre-drinks for a night out, will be just as appreciated. Secret Santa is also always a good choice, and means you all have to stick to the same budget. Remember, it's not the gift that matters - it's the thought that counts!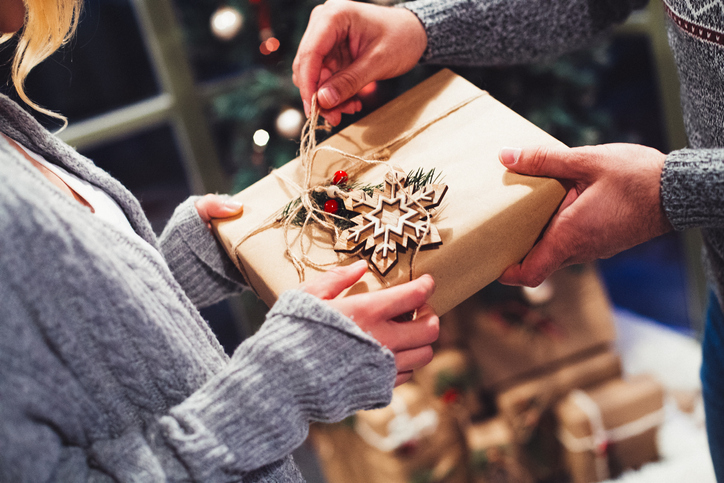 Getting into the Festive Spirit
It wouldn't be Christmas without a tacky (or classy) Christmas jumper. You can pick up Christmas jumpers from lots of shops in Lancaster, including Primark, New Look, Topshop/Topman, River Island, Next, and M&S. Supermarkets like Sainsbury's and ASDA also have really affordable Christmas jumpers. Primark also has a great selection of novelty Christmas pyjamas, with themes like the Grinch or Elf, as well as festive headbands and accessories. Once you've donned your Christmas jumper, we'd recommend compiling a festive playlist to get you in the mood, with Mariah Carey and Michael Bublé performing the perfect soundtrack to your Friendsmas. We'd also recommend getting in your festive drink of choice, whether that's mulled wine, Buck's fizz, or even just a festive hot chocolate! Settle down with your friends, your drinks, and some tasty snacks, and put on your favourite Christmas film.
We hope this has been a handy guide to hosting Friendsmas 2019. All of our housing in Lancaster is accredited by Lancaster University. Get in touch with our friendly team for more information on letting one of our properties or rooms.